John Calvin Price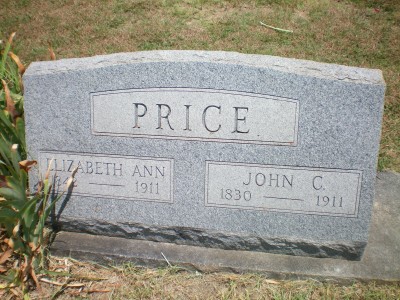 Personal and Family Information
John was born in 1830 in Harrison, Harrison, West Virginia, United States, the son of Phineas K Price and Paulina Bonaparte Waldo.
He died on 1 DEC 1911 in Collin County, Texas.
His wife was Elizabeth Ann Roper. They were married, but the date and place have not been found. Their two known children were George (?-?) and Unknown (?-?).
Pedigree Chart (3 generations)
Events
Event
Date
Details
Source
Multimedia
Notes
Birth
1830

| | |
| --- | --- |
| Place: | Harrison, Harrison, West Virginia, United States |

Death
1 DEC 1911

| | |
| --- | --- |
| Place: | Collin County, Texas |
Multimedia
Notes
Note 1
Death: 
Dec. 1, 1911
Collin County
Texas, USA
He had lived in this community for 40 yrs.. The newspaper called it the Chambliss Community..... He and his wife had 2 children a son George Price of Southern Texas & Mrs Abe Walker that also lived in this community.
above from findagrave contributor: Loretta Neal 47419910 by email.
Obit:
Daily Courier
December 2, 1911
Saturday Evening
McKinney, Texas
J C Price Passes Away. The grim Reaper visited the Chambliss Community Friday night and took away "Uncle Johnnie" Price an aged citizen who had resided in that community for the past 40 years. "Uncle Johnnie" was about 80 years of age. He moved to Texas with his parents Mr. & Mrs. Fenny Price, when about 30 years of age, coming to this state from Albany, Missouri. Mr Price's companion was called to her reward about for (sic) or five ago (sic). He had lived with his children since that time. Mr price was a devoted member of the Baptist church, spending the latter part of his life for God and the betterment of his fellow citizens. He served through the war, and was a brave soldier, fighting for what he thought to be just and right. The death of this good Christian genteleman has caused his large circle of friedns to bow their heads in grief, and sympathize with his children who are left to mourn his death. He is survived by a son and a daughter, George Price of Southern Texas, and Mrs Abe Walker of this city. The interment took place at the Chambliss cemetery this afternoon.
The editors of these papers extend condolence to the bereaved children in the death of their honored old father.
(added note to the bottom of the obit copy, Stoney Point Cemetery was often called Chambliss in the late 1880's & early 1900's. John Calvin Price's parents were Phineas K Price & Pauline Bonaparte Waldo Price. His wife was Elizabeth Ann Roper.)