Melvina Kemmer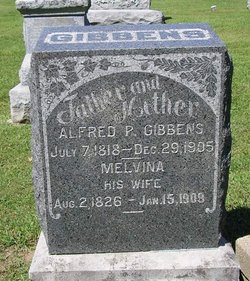 Personal and Family Information
Melvina was born on 2 AUG 1826 in Kentucky, the daughter of unknown parents.
She died on 15 JAN 1908 in Effingham County, IL.
Her husband was Alfred Pierce Gibbens, who she married on 11 SEP 1842. The place has not been found. Their four known children were Sarah Jane (1843-1926), Mary E. "Lizzie" (?-?), Harriet M (?-?) and America Margaret (1862-1932).
Events
Event
Date
Details
Source
Multimedia
Notes
Birth
2 AUG 1826
Death
15 JAN 1908

| | |
| --- | --- |
| Place: | Effingham County, IL |
Multimedia
Notes
Note 1
Effingham Democrat Jan-17-1908 Montrose:
Mrs. Alfred Gibbon, who has been living with her daughter, Mrs. Ripley, of Watson, died Wednesday morning. The remains will be brought back here for burial at the Faunce Cemetery Thursday afternoon.
From the Effingham Democrat dated 22-FEB.-1908,a weekly paper in Effingham,Effingham County,Illinois...
The paper was on microfilm at the Effingham Library. There was no paper on file for 1905.
OBITUARY
Mrs. Melvina Gibbons,nee Kemmer, of Montrose, Illinois, departed this life January 15,1908 at 3 o'clock A.M.. She was born August 2,1826 in Kentucky. She was married to Alfred P. Gibbons September 11,1842, who died December 30,1905. This union was blessed with eleven children, ten girls and one boy. The boy and two girls were called away at an early age; 2 girls were married and then called away. Mrs. Gibbons lived a Christian life, a life of which her children and many Grandchildren may be proud. She was perfectly prepared to go and went to sleep as peaceful as though it were for a short time. She leaves to morn her demise six girls, a host of grandchildren, great-grandchildren and one great-great-grandchild and many friend. She was brought from Montrose to daughter's home in Watson nearly three months ago where she received the tenderest care. Heaven has called it's own
Dear Mother has gone to a land of peace
From care her soul has found release
No more we'll see her cheering face
Nor is there on to fill her place.
Burial: Faunce Cem., Cumberland County, Illinois