Alfred Pierce Gibbens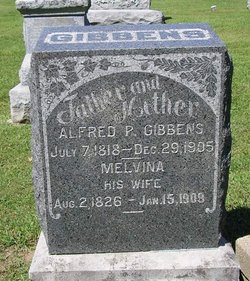 Personal and Family Information
Alfred was born on 7 JUL 1818 in Winchester, Frederick County, VA, the son of Jacob Gibbons JR and Mary Ann Pierce.
He died on 29 DEC 1905 in Clay County, IN.
His wife was Melvina Kemmer, who he married on 11 SEP 1842. The place has not been found. Their four known children were Sarah Jane (1843-1926), Mary E. "Lizzie" (?-?), Harriet M (?-?) and America Margaret (1862-1932).
Pedigree Chart (3 generations)
Events
Event
Date
Details
Source
Multimedia
Notes
Birth
7 JUL 1818

| | |
| --- | --- |
| Place: | Winchester, Frederick County, VA |

Death
29 DEC 1905
Multimedia
Notes
Note 1
ALFRED PIERCE4 GIBBONS (JACOB3, JACOB2, JAMES1) was born July 07, 1818 in Frederick County, Virginia, and died December 29, 1905 in Cumberland County, Illinois. He married MELVINA KEMMER September 11, 1842 in Fayette County, Indiana. She was born August 02, 1826 in Kentucky, and died January 15, 1908 in Watson, Effingham Co., Illinois.
Notes for ALFRED PIERCE GIBBONS:
Effingham Daily News, April 8-1982, page 10 written by Peggy Pulliam
Titled: Tracing land deeds through several counties. "My readers respond" PART 1:
As you read this article, there are some interesting NOT PROVEN facts, that have been told by several generations in these families. The grave of Mary Ann Pierce who married Jacob Gibbons ,Jr., buried at Faunce cemetery, the article reads that the informant states that she, Mary Ann Pierce, was a sister to our fourteenth president, Franklin Pierce, and that Jacob Gibbons was an half brother to Newton Gibbons, this last statement is not true, Newton was Jacob's son. Mary Ann became ill while visiting in the Effingham area, and she died.
More About ALFRED PIERCE GIBBONS:
Burial: Faunce Cemetery, Cumberland County, Illinois