Jacob Gibbons JR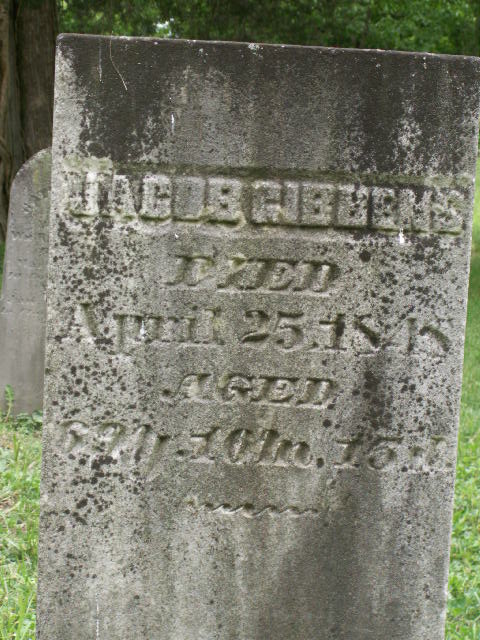 Personal and Family Information
Jacob was born on 10 JUN 1778 in Winchester, Virginia, the son of Jacob Gibbons Sr and Sarah Walton.
He died on 28 APR 1848 in Brazil, Indiana.
He had two marriages/partners. His first wife was Mary Margaret Grove, who he married on 26 MAY 1804 in Winchester, Frederick County, VA. Their two known children were John (1803-1861) and William (1808->1880).
His second wife was Mary Ann Pierce, who he married on 28 NOV 1811 in Pleasant Point, Virginia. Their ten known children were Hamilton John (1813-1839), Rachel Lavina (1816-1899), Alfred Pierce (1818-1905), Nathan Alvin (1820-1910), James Franklin (1825-1873), Mary Ann (1827-1872), Thomas Dorsey (1830-1903), Newton Walker (1833-1911), Sarah Catherine (1836-<1900) and Fielden T. Languary (1839-1894).
Pedigree Chart (3 generations)
Events
Event
Date
Details
Source
Multimedia
Notes
Birth
10 JUN 1778

| | |
| --- | --- |
| Place: | Winchester, Virginia |

Death
28 APR 1848
Multimedia
Notes
Note 1
In 1838, he with other relatives went to Indiana. After living a few months in the eastern part of the state, he moved to Clay County, Indiana with his entire family, some of whom had married while in Virginia. He died from exposure and cold contracted while in service of his country on April 28, 1848. He was laid to rest in the Zenor Cemetery about 7 miles south of Brazil, Indiana.
The West Virgina Advocate, February 15th, 1990 by Wilmer L. Kerns, Ph D.
War & Heartbreak In The North River & Ca capon Valleys
Sagas of Pioneer Families of the North River Settlement History and Tragedy of the Gibbons Family. (pages 2,3,18,19,20,21 & 22) ALLOT OF HISTORY REPORTED!!!!!!!!!!!!!
High light foot notes of the following pages...............................Page 18 James Gibbons settled
several miles below Jonathon Pugh, just beyond North River Mills. Page 20. Gibbons family history.
Research on the roots of the Gibbons family reveals much lost and forgotten history of the area. The first settlers by this name was James Gibbons, (ca. 1720-1760) He and his wife Mary, settled on Fairfax lands along North river, near the mouth of a stream later named Gibbons Run. Gibbons' Run, in Hampshire County was named after pioneer James Gibbons. A Fairfax survey, dated Dec. 9-1754, reveals that James Gibbons worked as a chairman for Surveyor John Mauzy. In addition to other families, Indians also assaulted and pillage James Gibbons family and property during the 1756 raid at North River Mills. His daughter, Sarah Gibbons was taken prisoner and held for eight or nine years before being released presumably, Sarah was returned to Old Frederick County in 1764-1765, age 21 or 22. Sarah Gibbons, was 13 years old at the time of capture. What happened to James Gibbons during the Indian attack is not known. Possibly he was killed or died shortly there after of a disease, or natural cause. His name did not appear in subsequent records. James Gibbons did not live to receive an official Fairfax grant for the 131 acre farm, which he lived. Mary Gibbons, widow of James, remarried to Durrett Covey, prior to 1771. Covey was one of the Soldiers in Captain Joshua Lewis' militia who came to the aid of the Gibbons family during the Indian attach in the spring of 1756. Possibly Covey was involved in securing Sarah Gibbons' release by the Indians. Gibbons' 131 acre farm, along the North River, was inherited by Jacob Gibbons' Sr., the eldest son and "heir-at-law" of James Gibbons. Jacob Gibbons' Sr. was born sometime during the French and Indian War, his family resettled in the Shenandoah Valley of Virginia where he died ca. 1831
Note 2
Brazil Daily Times, Brazil, Indiana Wednesday, August 22,1928 ( news clipping)
PIONEER FAMILY HOLDS REUNION
Founders of the Indiana Branch of Gibbons Family came to Clay County, in 1808.
Jacob Gibbons in Revolutionary War
His son served in war of 1812, married a relative of President Pierce and then located in Clay County. (NOTE: This would be Jacob
Gibbons,Jr.)
The article reads........The fifth annual reunion of the Gibbons family was held at Forest Park, Brazil, Sunday, Aug. 19th. The
Gibbons family is one of the pioneer families of Clay County. The early ancestors of the family having come from England to
Virginia during the early settlement of the state.
The earliest ancestors of which the family has a record, is Jacob Gibbons, Sr. who was born & died in Frederick County, Va..
He was a soldier in the Revolutionary War having served under General Marion.
Jacob Gibbons,Jr. , a son of Jacob Gibbons,Sr. , was born June 10th, 1778 near Winchester, Frederick County, Virginia. He was married To Mary Pierce, November 21-1798 at Pleasent Point, Harrison County, Virginia.
He served his country in the War of 1812, came to Clay County,Indiana in 1839. He died April 28- 1848 from lingering disease
caused by exposer and cold while in the service of his country during War of 1812. He remains were laid to rest in Zenor cemetery in Jackson Township, 7 miles South of Brazil.
Jacob Gibbons was the father of twelve children: John, William, Hamilton, Alfred, Nathan A., James , Thomas, Newton and three daughters, Rachel Gibbons Whittington, Mary Ann Gibbons Carter, & Sarah Catherine Gibbons Fortnor.
Four of the children, Thomas, Newton, Alfred, & James established homes in Illinois, while the others remained in Indiana.
About two hundred decedents of the pioneer family gathered at Forest Park Sunday Aug. 19 to renew family ties & pay fitting
tribute to those who blazed the trail that we might have the things which we now enjoy.
At the noon hour a bountiful dinner was served & enjoyed by every one present.
After the big dinner, the usual business session was held. S.F. Gibbons , of Fooseland, was re-elected president: Charles
Witty, of Center Point was elected vice president, and Effie A. Fisher, of Brazil, elected sec-Treas. It was decided to hold the
next reunion in Forest Park, the third Sunday in Aug. 1929.
Those coming from other counties and states were, Alfred Gibbons, New Mexico; Mrs. Dorthey Stunkard, Tulsa Oklahoma; S.F.
Gibbons & family, Mr. & Mrs. Henry Carlson, Mr. & Mrs. Edgar Gibbons, Mrs. Blanch Bishop & children; Mrs. Chas Delong & family;Mr.
David Howard; Mr. & Mrs. George Nussell & son; Homer Gibbons & family; Mrs. Jennie C-os;Mrs. C.W. Durst;Mr. & Mrs. Frank Fisher &
Daughter; All from Illinois. Mrs. Bertha Duncan & son Paul, Layfayette Indiana;John Gibbons & family, from Burton; ? Gibbons &
family. Rev. & Mrs. Charles Currie, Thomas Gibbons & family, Mrs. Sarah E. Burkett, Mrs. Roland Flint, Mr. & Mrs. A.K. Campbell &
family, All from Terre Haute, Indiana. Regrets were received from relatives in Texas, New Mexico, Kansas, Oklahoma, California,
Arkansas, Illinois, Michigan, and Canada, many of whom expect to be with us next year.
Effie A. Fisher, Sec.
Note 3
Mary Ann Pierce possibly a niece of Mary Margaret Grove, Jacob's first wife.