James Isaac Ritter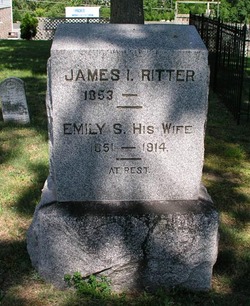 Personal and Family Information
James was the son of Samuel Ritter and Catherine Unknown. The date and place of his birth have not been found.
He has died but the date and place are unknown.
He had two marriages/partners. His first wife was Emily S. Gibbons, who he married on 17 OCT 1876 in Winchester, Frederick, Virginia. Their two known children were Amelia S. (1877-1897) and Catherine Emily (1880-1905).
His second wife was Anna H. Ferguson, who he married in AFT 1914 in prob. VA. They had no known children.
Pedigree Chart (3 generations)
Events
| Event | Date | Details | Source | Multimedia | Notes |
| --- | --- | --- | --- | --- | --- |
| Death | | | | | |
Multimedia
Notes
Note 1
Greenwood Heights, Frederick, VA: Greenwood United Methodist Church Cemetery