Emily S. Gibbons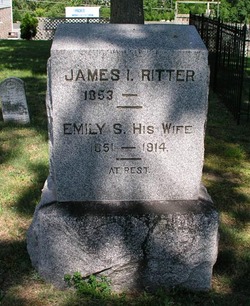 Personal and Family Information
Emily was born in JAN 1851 in Frederick, VA, the daughter of William Gibbons and Catherine Beatley.
She died on 15 MAR 1914 in Frederick, VA .
Her husband was James Isaac Ritter, who she married on 17 OCT 1876 in Winchester, Frederick, Virginia. Their two known children were Amelia S. (1877-1897) and Catherine Emily (1880-1905).
Pedigree Chart (3 generations)
Events
| Event | Date | Details | Source | Multimedia | Notes |
| --- | --- | --- | --- | --- | --- |
| Birth | JAN 1851 | | | | |
| Death | 15 MAR 1914 | | | | |
Multimedia
Notes
Note 1
Greenwood Heights, Frederick, VA: Greenwood United Methodist Church Cemetery