Everett Earl Shaha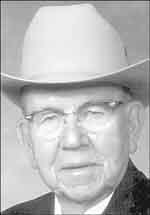 Personal and Family Information
Everett was born on 6 MAR 1918 in Texas, the son of Everett Avery Shaha and Edith Pearl Gibbons.
He died on 10 JUL 2003 in Moore County, Texas.
His wife was Juanita Elizabeth Beck. They were married, but the date and place have not been found. Their only known child was William (?-?).
Pedigree Chart (3 generations)
Events
Event
Date
Details
Source
Multimedia
Notes
Birth
6 MAR 1918
Death
10 JUL 2003

| | |
| --- | --- |
| Place: | Moore County, Texas |
Multimedia
Notes
Note 1
Birth: 
Mar. 6, 1919
Dalhart
Dallam County
Texas, USA
Death: 
Jul. 10, 2003
Moore County
Texas, USA
Everett E. Shaha 84 died Thursday July 10, 2003.
Services will be at 11 AM Monday in First Baptist Church in Dumas with the Rev. Eddie Tubbs pastor officiating. Burial will be in Northlawn Memorial Gardens by Morrison Funeral Directors.
Mr. Shaha was born March 6, 1919 in Dalhart. He had been a Dumas resident since 1950. He was a member of First Baptist Church. He married Juanita Elizabeth Beck on September 21, 1941 in Clayton, New Mexico.
He was a member of Dumas Masonic Lodge No. 1009 where he served as a past grand master and past district deputy grand master. He was a member of the Dumas Noon Lions and Golden Spread Scottish Rite clubs. He was a maintenance field supervisor at Colorado Interstate Gas. He attended Texas Tech University.
Survivors include his wife; two sons William E. Shaha and wife Susan of Burleson and James D. Shaha and wife Dianne of Gainesville; a daughter Betty M. Spann and husband Dale, of Mukilteo, Washington; two sisters Genacile Jackson of Clayton and Nadine Roberts of Springer, New Mexico; five grandchildren; and six great-grandchildren.
The family will be at 209 Powell in Dumas.
The family suggests memorials be to Memorial Hospice 224 East Second Dumas, Texas 79029.