William John Tyler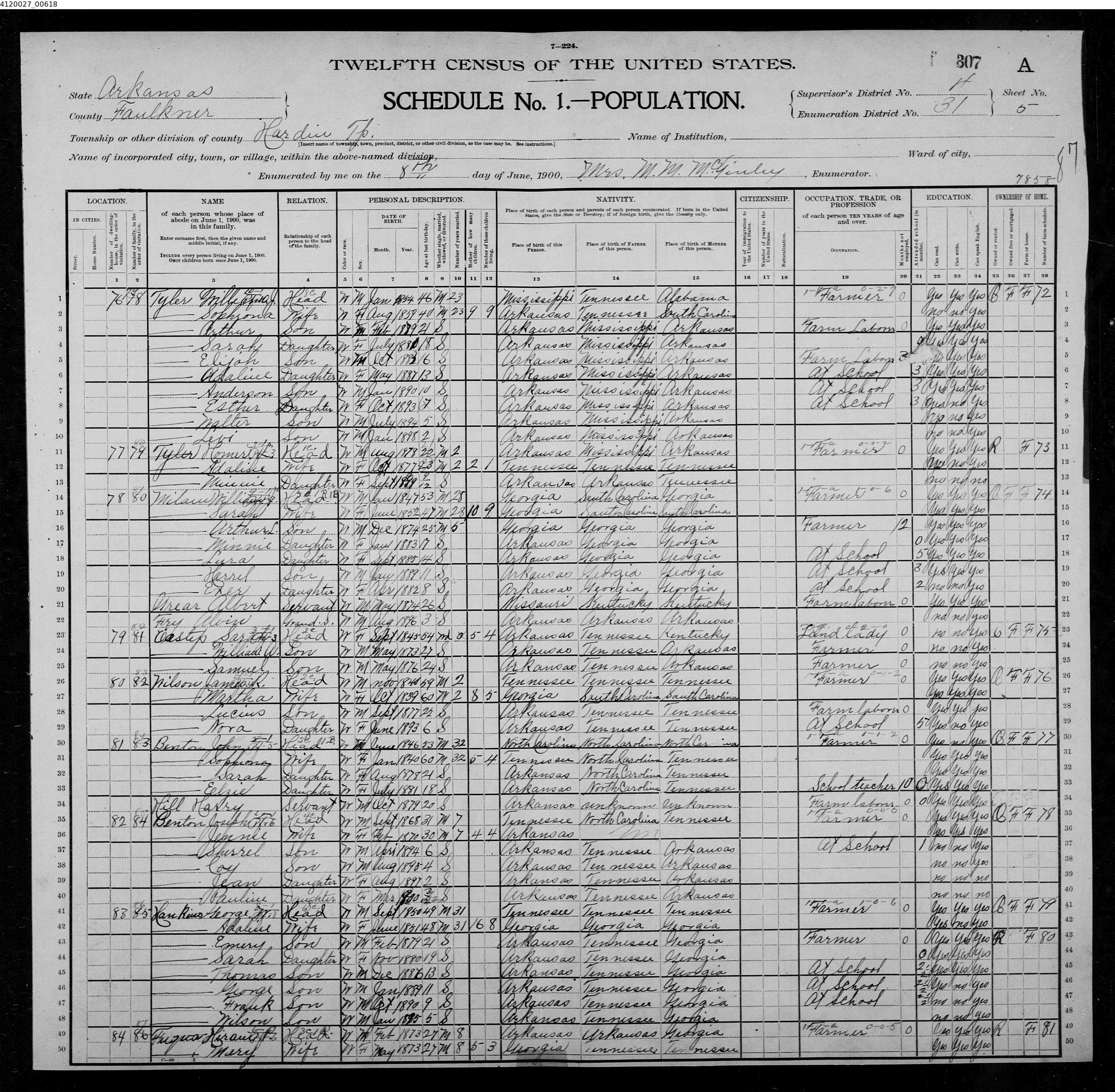 Personal and Family Information
William was born on 20 JAN 1855 in Corinth, MS, the son of William Tyler and Janilly A. Moss.
He died on 30 JUN 1938 in Greenbrier, Arkansas.
His wife was Sofronia Ann Reynolds. They were married, but the date and place have not been found. Their fourteen known children were Arthur Andrew (1879-1959), Adaline Addie (1887-1968), Noah (1890-1965), Oscar Levi (1898-1977), Sally (1881-1914), Elijah Joseph (1884-1961), Esther (1893-?), Walter Sylvester (1895-1987), Ira (?-?), Virgil (?-?), Homer Luther (1878-1947), Sarah (1881-c1905), Anderson (1890-?) and Minnie (1899-?).
Pedigree Chart (3 generations)
Events
Event
Date
Details
Source
Multimedia
Notes
Birth
20 JAN 1855
Death
30 JUN 1938

| | |
| --- | --- |
| Place: | Greenbrier, Arkansas |
Multimedia
Notes
Note 1
--from the Log Cabin Democrat, Fri., 01 Jul 1938
WILLIAM JOHN TYLER
William John Tyler, aged 83, retired farmer living on Rte. 2, Greenbrier, died at his home at 8 o'clock last night after an illness of two weeks. Mr. Tyler was born in Mississippi, January 20, 1855, and had lived in the Greenbrier vicinity 47 years. He is survived by his wife; eight sons, Arthur, Lige, and Levi Tyler of Greenbrier, Noah and Walter Tyler of Conway, Virgil and Homer Tyler of Little Rock, and Ira Tyler of Mena; and two daughters, Mrs. Addie Stevenson of Greenbrier and Mrs. Ester Love of Little Rock. Funeral services were conducted this afternoon by Rev. W.J. Burgess and interment made in Spring Hill Cemetery in charge of Doolin's Funeral Home. Pall bearers were as follows: Active--Hendrix Tyler, Elbert Tyler, Jerry Tyler, Chester Love, Amon Love, and Omen Tyler. Honorary--Clyde Kelso, Rom Ball, Tom Brannon, Johnnie Connor, Paul Wilson, Alonzo Wilson, Willie Merritt, Bonnie Graham, Claude Davis, and Willie Dugger.