Erin Rose Goodwin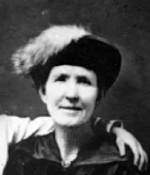 Personal and Family Information
Erin was born on 24 AUG 1863 in Waxahatchie, Ellis County, Texas, the daughter of Grief Hickman Goodwin and Achsah Caroline Price.
She died on 18 OCT 1952 in Lockney, Texas.
Her husband was Marcus Lafayette Dillard, who she married on 16 DEC 1877 in Fannin County, Texas. Their seven known children were Bertie Pauline (1880-1909), Jessee (1882-1882), Luther (1883-?), Virgil L. (1886-?), Willie (1889-?), Myrtle (1894-?) and John Edgar (1901-1980).
Pedigree Chart (3 generations)
Events
Event
Date
Details
Source
Multimedia
Notes
Birth
24 AUG 1863

| | |
| --- | --- |
| Place: | Waxahatchie, Ellis County, Texas |

Death
18 OCT 1952
Multimedia