George Harvey Presnell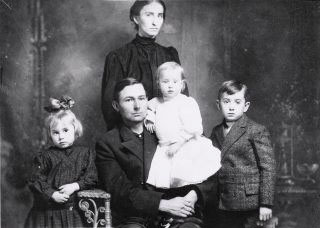 Personal and Family Information
George was born on 7 JAN 1881, the son of John R. Presnell and Sarah A Ealey. The place is not known.
He died on 6 MAR 1973. The place is not known.
His wife was Minnie Florence Devins. They were married, but the date and place have not been found. Their eight known children were Verda (1909-1993), Orrin 'Bomp' (1901-1989), Verla Angeline (?-?), Olga Florence (1907-?), Earl (?-?), George Hubert (1913-1994), Opal Ruth (1915-2002) and Mary Jean (?-?).
Pedigree Chart (3 generations)
Events
| Event | Date | Details | Source | Multimedia | Notes |
| --- | --- | --- | --- | --- | --- |
| Birth | 7 JAN 1881 | | | | |
| Death | 6 MAR 1973 | | | | |
Multimedia