Johnson Wade Howell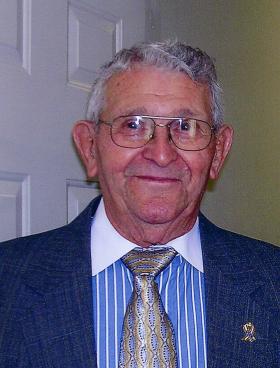 Personal and Family Information
Johnson was born on 2 APR 1921, the son of unknown parents. The place is not known.
He died on 4 FEB 2011 in Greenbrier, Arkansas.
His wife was Sibyl Faye Tyler, who he married on 9 DEC 1939. The place has not been found. Their four known children were Frances Wadette (1940-?), Tommy Gene (1944-2005), Jerry Wade (1941-1941) and Jimmy Dale (1950-?).
Events
Event
Date
Details
Source
Multimedia
Notes
Birth
2 APR 1921
Death
4 FEB 2011

| | |
| --- | --- |
| Place: | Greenbrier, Arkansas |
Multimedia
Notes
Note 1
Obit in Log Cabin Democrat, February 5, 2011:
Johnson Wade Howell, 89, of Greenbrier, passed away Friday, February 4, 2011.
He was born April 2, 1921 in Wooster to the late Phillip Hicks Howell and Dora Johnson Howell.
He was preceded in death by his wife, Sibyl Tyler Howell; son, Jerry Wade Howell;
granddaughter, Cynthia Jane Matthews, brother, Glendel Howell and sister Conedia Dickens.
He was a member of LifeSong Baptist Church and was an ordained Baptist  Deacon and treasurer for many years.
He was a veteran of W. W. II serving in the U.S. Army and retired from Ward Body Works Inc.
Survivors are his daughter, Wadette Matthews and husband Joe of Euless, TX, grandson, William
Matthews and wife Dr. Lauri and  great granddaughter Sarah Elizabeth Matthews; son, Tommy Howell and wife Doris of Greenbrier, granddaughter, Missy Corrigan and husband Michael and great grandson,
Caleb; son, Jimmy Howell and wife Megan of Conway, granddaughter, Katie; great grandson Jesse
and great granddaughter, Ashley.
Funeral services will be 1:00 PM Tuesday at LifeSong Baptist Church, Greenbrier with  Brother's
Freddie Mark Wilcox and Darrell Spigner officiating. Burial will be  in Bethlehem Cemetery. 
Visitation will be 6:00 to 9:00 PM Monday at Roller-McNutt Funeral Home Greenbrier, (501) 679
-2575
Pallbearers will be Michael Corrigan, Bill Tyler, Jim Tapley, Justin Tapley, James Berry, and Danny Fagala.