Gerald Allen Stunkard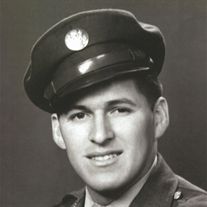 Personal and Family Information
Gerald was born on 4 FEB 1925, the son of Dorothy Stunkard but his father is unknown. The place is not known.
He died in 2014. The place is not known.
His wife was Florence McLeod. They were married, but the date and place have not been found. Their three known children were Terry Eugene (1947-?), Lawrence (1949-?) and Daniel Leon (1950-?).
Pedigree Chart (3 generations)
Events
| Event | Date | Details | Source | Multimedia | Notes |
| --- | --- | --- | --- | --- | --- |
| Birth | 4 FEB 1925 | | | | |
| Death | 2014 | | | | |
Multimedia
Notes
Note 1
Obituary for Gerald Allen Stunkard
Gerald (Jerry) Allen Stunkard, born February 4, 1925, passed away May 23, 2014. He grew up in a farming family in Tulsa, Oklahoma. He was a senior in high school when Japan invaded Pearl Harbor on December 7, 1941, a day that will never be forgotten. On May 29, 1942, at the age of 17, he graduated from Central High School, in Tulsa, OK. Shortly after his 18th birthday on February 4, 1943, he was in the Army in the Ordinance Division and trained in Aberdeen, Maryland.
On June 6, 1944, he participated in the Normandy Beachhead Landing of France, the largest amphibious invasion in history, commonly well-known as D-Day. 160,000 Allied troops landed along a 50-mile stretch of heavily-fortified French coastline to fight Nazi Germany on the beaches of Normandy, France. General Dwight D. Eisenhower called the operation a crusade in which "we will accept nothing less than full victory." More than 5,000 ships and 13,000 aircraft supported the D-Day invasion, and by day's end on June 6, the Allies gained a foot-hold in Normandy. The D-Day cost was high - more than 9,000 soldiers were killed or wounded - but more than 100,000 soldiers began the march across Europe to defeat Hitler and, Jerry Stunkard was part of that heroic event.
He was discharged January 9, 1946. He obtained the military qualification of Marksman Rifleman. His decorations and citations included World War II Victory Ribbon, Good Conduct Medal, EAME theater ribbon meaning he served in the European- African Middle Eastern Campaign and One Silver Star.
After the war, he came back home and met Florence McLeod. They married on June 8, 1946, in Claremore, OK. Nearly a year later on April 20, 1947, they were blessed with their first of three sons, Terry Eugene Stunkard. Jerry had learned drafting in high school and pursued the profession vigorously and with passion, while working many jobs until he was drafting full-time.
On May 21, 1949, their second child was born, Lawrence Allen Stunkard. Not quite a year later, on May 6, 1950 their third son was born, Daniel Leon Stunkard. They raised their three sons with great pride and love. Many fun-filled fishing and camping trips were taken to the Illinois River in northeast Oklahoma near Tahlequah where later land was purchased. To this day there is a sign titled Stunkard Public Access on Highway 10 granted to the State of Oklahoma for the public's access to the river.
While being successful at drafting, he had a great interest in the oil and gas industry and with an entrepreneurship heart and mind, he became well-known for numerous valve and other patents and was recognized by the industry as "The Godfather of Valves". Time passed and before Jerry and Florence knew it, they were celebrating their 50th Wedding Anniversary on June 8, 1996. Before long, his beloved wife Florence went to be with her Savior on January 12, 1997.
On November 10, 2010, I sat across the table with my father and asked him if he had accepted Jesus as his Savior and he answered, with a tear in his eye, "Yes." That was one of the greatest moments of my life.
He was preceded in death by his loving wife, Florence (McLeod) Stunkard on January 12, 1997. He his survived by his sons and daughters-in-law: Terry and Janet Stunkard, Jenks, OK, Larry and Janice Stunkard, Tyler, TX, Dan and Doyla Stunkard, Prosper, TX; 8 grandchildren; 10 great-grandchildren and beloved sister, Doris Cook, Jenks. OK. Visitation is at 1:00 P.M. Tuesday, May 27, 2014, at the Floral Haven Heritage Mausoleum Chapel, with the funeral services at 2:00 P.M. in the Floral Haven Heritage Mausoleum Chapel, 6500 S 129th E Avenue, Broken Arrow, OK.