Ezekiel Dunagan Graham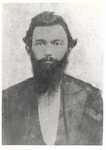 Personal and Family Information
Ezekiel was born on 4 SEP 1840 in Jackson County, GA, the son of William Graham and Louisa B. Dunagan.
He has died but the date and place are unknown.
His wife was Laura Mann, who he married on 19 JUN 1866. The place has not been found. Their five known children were William M. (?-?), Lou (?-?), Kate (?-?), Laura (?-?) and Cora (?-?).
Pedigree Chart (3 generations)
Events
Event
Date
Details
Source
Multimedia
Notes
Birth
4 SEP 1840

| | |
| --- | --- |
| Place: | Jackson County, GA |

Death
Multimedia
Notes
Note 1
An 1889 publication titled "souvenir Sketches of Georgia and Florida" has write-ups on several Hall Countians and descendants of Hall Countians. These personality sketches tell about the migration of families from this area and the accomplishments of their offspring.
Ezekiel D. Graham was born in Jackson County Sept.4, 1840. His father, William Graham, was born in Charlotte, North Carolina, in 1814, and a grandson of William Graham, of Charlotte, N. C., one of the signers of the Mecklenburg Declaration of Independence. William, father of Ezekiel Graham, moved to Jackson County when a boy, and for several years was engaged in the mercantile business in that county.
On Dec. 10, 1839, William Graham was married in Hall County to Louisa B. Dunagan, daughter of Ezekiel Jackson and Lydia Ann Brown. Dunagan, a well known family of Hall [County]. In 1858, William and Louisa moved to Arkansas where William turned his attention to agricultural pursuits. At the outbreak of the War Between the States, he joined the Confederate Army and died while in the service in 1862. William and Louisa Dunagan Graham were parents of eight children: Ezekiel D., Samuel A., Liddia L., Susan, William A., Margaret, Julia, and Augustus.
Ezekiel D. Graham, subject of the personality sketch, was brought up principally in Chattooga County Georgia and was educated in Lafayette. In 1858 he was licensed to practice law and was admitted to the bar in Trenton. He practiced his profession at Trenton until the commencement of the war and he joined the Confederate Army as a private in Company C, of the 6th Georgia Infantry. He was soon promoted to first Lieutenant of his company and from that to Captain of the company, in which capacity he served until the close of the war. He then returned to Trenton and resumed the practice of law. In 1865, he was elected from Dade County to the constitutional convention, and in 1870 was elected from Dade County to the legislature. In 1872, he was elector for president and vice president on the Georgia state ticket, and in 1874 was again elected to the legislature from Dade County and served one term. In 1877, he moved to Cartersville and engaged in the legal profession. Ezekiel Graham was married June 19, 1866, to Laura Mann, daughter of Emanuel and Jane Taylor Mann who moved from Georgia to Knoxville, Tenn. The couple became parents of five children: William M., Lou, Kate, Laura, and Cora Graham. In 1888, Ezekiel Graham was a delegate from Georgia to the National Democratic Convention which met in St. Louis, MO.
Ezekiel Jackson Dunagan, grandfather to Ezekiel Graham, is buried in Hall County.
Personality sketches in Hall during 1869 The Times of Gainesville, September 15, 1974 - Sybil McRay, Special to The Times