John Lloyd Gibbens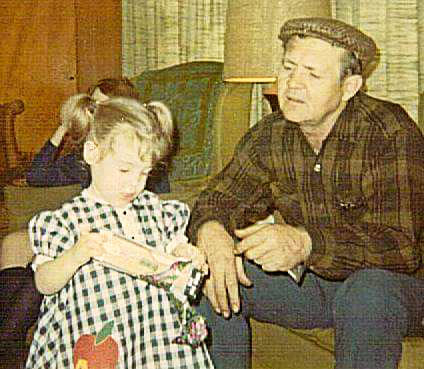 Personal and Family Information
John was born on 23 OCT 1919 in Tulsa, OK, the son of Russell Harrison 'Harry' Gibbons and Hazel Viola Cline.
He died on 12 AUG 2008 in Tulsa, OK.
His wife was Fern Gray, who he married on 15 JUN 1946 in Tulsa, OK. Their three known children were Teresa Elyse (1948-?), Debra Kay (1954-?) and Rebecca Eve (1957-?).
Pedigree Chart (3 generations)
Events
| Event | Date | Details | Source | Multimedia | Notes |
| --- | --- | --- | --- | --- | --- |
| Birth | 23 OCT 1919 | | | | |
| Death | 12 AUG 2008 | | | | |
Multimedia
Notes
Note 1
John was in the Army in World War II. He worked for Bethlehem Steel for several years and later with AVCO Tulsa,Okla.
Source: Staff Reports, Tulsa, Oklahoma
Date: Thursday, 14 August 2008
GIBBONS - John Loyd, went to be with his wife and his Lord on August 12th, 2008, at home while surrounded by the home. and memories he had built over 88 years. He was a husband, father, and grandfather, veteran of World War II, manufacturing manager, golfer, and well-deserved retiree. He was born on October 23, 1919, to R. H. and Hazel Gibbens in Tulsa, and was a resident of Tulsa for most of his life. He is survived by: 9 brothers and sisters, Russell Gibbons, Lorene Tribbey, Louise Owen, Tom Gibbens, Bob Gibbens, Delores Webster, Ida Mae Dooley, Bill Gibbens, and Jim Gibbens; 3 daughters and 2 sons-in-law, Teresa Courtney of Tulsa, OK, Debra and Ron Mordecai of Glenpool, OK, and Rebecca and Jerry Lee of Edmond, OK; 6 grandchildren, Kimberley, Kara, John, Elizabeth, Jessica, and Kelsey; and 8 great-grand- children, Conner, Matthew, Jason, Hayden, Alex, Sam, Allie, Emily, as well as his best friend Mattie the Dog. He loved his family and golf; John was an avid golfer who relished the interaction with friends as much as the game itself and was quite capable of carding a fine score. He was a believer in keeping pace and typically pushed the game along as he did life itself. Although not such a big hitter, he sure could putt and made an excellent scramble partner. He was not above the occasional practical joke and you could see it in his smile when he got a good one over on someone. He was an engineer in the United States Army during World War II, and served in four major engagements including the Battle of Normandy, and received a Purple Heart due to injuries he sustained during his time in Europe. He will be a hero forever to his family and to his country. He will be sorely missed by his family and friends and will be remembered daily and loved always. Memorial service will be 3:30 p.m., Thursday, August 14, 2008, at Moore's Southlawn Chapel. Moore's Southlawn Chapel 663-2233.
Source: Staff Reports, Tulsa, Oklahoma
Gibbons, John L. 88, manufacturing worker, died Tuesday - Visitation 6-8 p.m. Wednesday and memorial services 3:30 pm, Thursday, both at Moore's Southlawn Funeral Home.