Clarence Marion Noble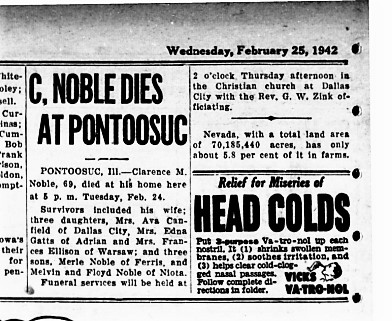 Personal and Family Information
Clarence was born on 26 APR 1872 in Augusta, Iowa, USA, the son of Andrew J Noble and Jane Gibbons.
He died on 24 FEB 1942 in Pontoosuc, IL.
His wife was Lydia E. Corey, who he married on 25 NOV 1897 in Ft Madison, Iowa, USA[. Their seven known children were Ava Mae (1899-1969), Edna Jane (1901-1978), Francis Florence (1907-1968), Melvin (1910-1978), Merle (1905-1990), Opal Marie (1911-1912) and Floyd Andrew (1910-1987).
Pedigree Chart (3 generations)
Events
Event
Date
Details
Source
Multimedia
Notes
Birth
26 APR 1872

| | |
| --- | --- |
| Place: | Augusta, Iowa, USA |

Death
24 FEB 1942
Multimedia
Notes
Note 1
Buried Dallas City Cemetery (per his Grandaughter Laura Engel)