David Earl Lemke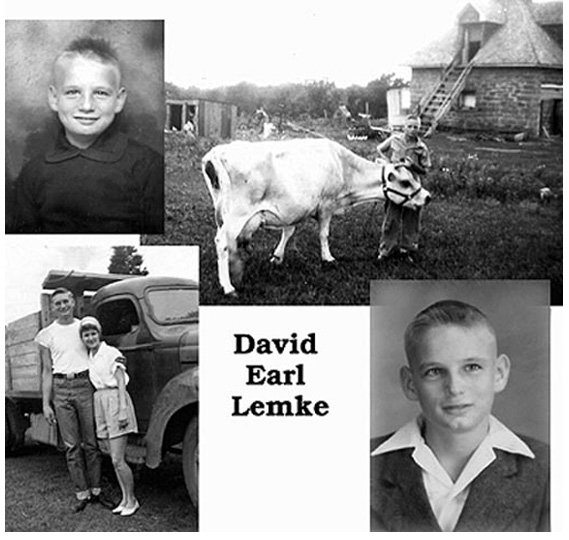 Personal and Family Information
David was born on 26 MAR 1931 in Tulsa, Oklahoma, the son of Donald Frederick Lemke and Gertrude Catherine Havlik.
He died in OCT 2017. The place is not known.
His wife was Margaret Jo Lorraine Richardson, who he married on 8 JUN 1949. The place has not been found. Their five known children were Deborah Kaye (1950-?), David Earl (1956-?), Daniel Kurt (1958-?), Drew Ann (1960-?) and Donna Darlene (1969-?).
Pedigree Chart (3 generations)
Events
| Event | Date | Details | Source | Multimedia | Notes |
| --- | --- | --- | --- | --- | --- |
| Birth | 26 MAR 1931 | | | | |
| Death | OCT 2017 | | | | |
Multimedia
Notes
Note 1
DURANT DAILY DEMOCRAT
David E. Lemke Sr. was born on March 26, 1931 in Tulsa, Oklahoma to Donald Frederick and Gertrude "Gertsie" Havlik Lemke and entered his eternal home on October 29, 2017 in Durant, Oklahoma at the age of 86.
David attended school at Jenks, Turley and graduated from Tulsa Central High and later married the love of his life Margaret Jo Richardson at her parent's home on June 8, 1949 and to this union was born five children. David enjoyed working in his large garden and never sold any of the produce. He always said, "If God will give me the health to tend a garden then I will give all the extra away."
David was a machinist for the greater part of his life and was a Veteran of the United States Army during the Korean Conflict until his Honorable Discharge. When he was 13, he was saved and baptized. He taught Sunday School and was a deacon and spent the remainder of his life serving the Lord.
David is survived by his loving wife of 68 plus years, Margaret Jo Lemke of the home; children, Deborah Kay and husband Gregg Hilker, David Lemke Jr. and wife Kelli, Daniel Kurt Lemke and wife Pam, Drew Ann Pfister and husband Mike, and Donna Darlene Hampton/Watkins and husband Mike; grandchildren, Shannon and Andy Strope, Sharla and Mark Gruber, Spencer Stanley and Jackie, Brenda and Lamar Hagerty, Stena Dawn and Jeff Brewer, David Lemke III and wife Kyndra, Kaylynn and Kameron Curtis, Mandy Mönig, Caleb and Taylor Lemke, Scott and Lindsay Bell, DeMichael Hampton, DeLanie and Zack Collier, Destanie Watkins and Damien Lunsford/Watkins; Great grandchildren, Karson Strope, Layne Doss, McKeon and Madelynn Mackey, Billy Curtis Bell, Timothy and Abbey Brewer, Morgan and Malkolm Hagerty, Trinity, Audrey and Julie Lemke, Hannah Margaret and William Mönig, Jackson, Easton and Savannah Bell, Rylee Collier, Hope and Layla Hampton.
David was preceded in death by his parents; sister, Shirley Gibbons and grandson, Caleb Lemke.
Funeral services will be held at 2:00 PM Friday, November 3, 2017 at Brown's Funeral Service Chapel. Pastor Phillip Rowland will officiate. Interment will be in Bennington Cemetery with David Lemke III, Spencer Stanley, Scott Bell, Taylor Lemke, Lamar Hagerty, Zack Collier, Jeff Brewer, Billy Curtis Bell and Damien Lunsford/Watkins serving as Pallbearers. The family will receive friends at the Funeral Home on Thursday evening from 6-8 PM. In lieu of flowers, the family requests donations be made to the American Legion PO Box 7017 Indianapolis, IN 46207.